Independent consulting services for HVAC Design & Testing
Dara Bowser, the owner & principal consultant, is an Accredited Building Technologist  member of the Association of Architectural Technologists of Ontario (AATO). In addition, Dara has:
Residential  Heat Loss and Duct Design
Residential Ventilation Installation & Design
Potable Water Heating System  (Combo) Design
Residential  HVAC System Commissioning
Small Commercial  HVAC  Design
NRCan EnergyStar Licenses for:
Energy Evaluation

Inspection
Air Tightness Testing
Ontario Ministry of Housing Qualifications for:
House
HVAC House
Small Buildings
Building Services
Dara Bowser has more than 40 years experience in the Energy, Comfort, Environmental and Air Quality Aspects of buildings. During his career Dara has worked with Consulting Engineers, Mechanical Contractors, Manufacturers Ventilation equipment as well as Manufacturers of oil, gas and electric heating equipment.
Municipal Governments
Energy Utilities
Ontario Home Builders Association
Insurance Companies
Canada Mortgage & Housing
Natural Resources Canada
Bowser Technical Inc carries errors and omissions insurance.
We provide complete analysis & design services for new and existing buildings:

Heat Loss & Gain

Duct Design

Ventilation Design

Piping Design (Hydronic/Infloor)

Net Zero Design and Evaluation

EnerGuide for New Homes Rating
EnergyStar for New Homes Rating
Code-Compliance Review
Air-flow testing and balancing
Combustion Spillage Testing
Depressurization Testing
Air-tightness testing (Blower Door/Infiltrometer)
Data-logging of the most environmental parameters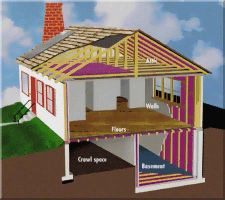 If the existing HVAC system just isn't working right & "seat of the pants" adjustments aren't working, the solution may be HVAC System Blueprinting . This is a process which is designed to bring the existing system up to its best possible operating capability and involves:
It often seems that when it comes to HVAC systems, all of the "experts" are contractors, utility representatives, or manufacturer's representatives. For smaller HVAC systems the services of a mechanical engineer may be costly.
At Bowser Technical, we are independent, that is to say; we do not sell or install anything except our services , nor do we receive commissions from anyone who does. We routinely work for owners, contractors, utilities, manufacturers, government and non-government agencies without conflict of interest.
Who can use our Services?
We assist Home & Building Owners with
Mechanical Contractors & Builders use us for:
heat-loss & gain calculations
duct design
ventilation design
airflow testing & balancing
Municipal Inspection Department may use our services for code compliance review of proposed or existing systems.
Brantford Home Builder's Association
Ontario Home Builder's Association
Heating Refrigeration and Air Conditioning Association of Canada
Ontario Building Officials Association
Association of Architechtural Technologists of Ontario
Canadian Home Builders Association
American Society of Heating, Refrigeration & Air Conditioning Engineers
Canadian Standards Association

| | |
| --- | --- |
| Please Note: | The scope of our practice is limited to Residential & Small Commercial (Ontario Building Code part 9) buildings. For other classes of buildings we will work in conjunction with an appropriately qualified Professional. |